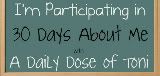 Day 6 (now that I'm caught up): Most treasured item-
My most treasured item is my sock monkey. My most treasured item before that was one of those pillows with the microbeads in it. The story?
Often times, I get very down on myself. I have a very low sense of self-esteem, but I try not to let it show around other people. Those who have known me for years, though, know that I really don't feel cared for or accepted, no matter how much someone tells me I am. You can tell me until your face turns blue, but I'll never believe it. I don't know why I'm this way, but I am.
Of course, some people might think my treasured items might be my salutatorian medal from high school, depicting my hard work and dedication, my collection of books, from which I never want to be parted, or my electronic items, from which I don't want to be parted, because they are a strong part of my support system. I don't have many real life friends. I find it hard to maintain relationships with people, and I don't know why.
But no, my most treasured item is a sock monkey, a gift given to me, probably purchased at a big box retailer, although that doesn't really matter, and a microbead pillow- same story. Why, you might ask?
These gifts were given out of love. I know my parents loved me when they gave me an Evo, when they traded my laptop, when they attended my high school graduation while I was wearing my medal and giving my speech, but those aren't my treasured items.
I sleep with my sock monkey held close to my side every night, as kind of a comfort, a reminder. I used to sleep with the microbead pillow, before I had the sock monkey. They were comfort, calming daily reminders that my parents loved me and wanted the best for me. I could take them anywhere with me, even tucked away in a bag, and not be questioned. A medal, not so much. My phone? Everyone carries a phone. Besides, they're used for practical things like...I don't know, contacting people?
The sock monkey's sole purpose is to keep me company. If I'm feeling lonely or discontent, I turn to the sock monkey with my blanket pulled over me (even if it's 115 degrees- I tend to have a cool room because of the way the thermostat works in our house). I can hold onto the sock monkey and feel protected and loved. It's not just a valued possession because it has "value"...it's sentimental value to me. Things like phones and whatnot don't have the same sentimental value.
While it's true I only graduate high school once, pictures tell the story of time, books give knowledge and entertainment, the sock monkey provides comfort that none of these other things can provide. Holding a book while falling asleep just doesn't feel the same. Wearing a medal to bed doesn't feel the same. These things are still important to me, and valuable, as are a few other things, as I tend not to get caught up in the material value of things, but the emotional value, but the sock monkey....I never want to let it go.
I want to feel loved, I want to feel valued, and when I remember that these things were given to me out of love and sentiment, I hold on to them tightly, as though they radiate love. It's almost cathartic for me, and for this reason, the sock monkey is my most valuable possession.